INVESTMENT MEMO TEMPLATE
How to write a crisp investment memo that gets investors excited
This investment memo template and example includes sample content plus simple, actionable recommendations that will help you write a crisp investment memo that gets investors excited.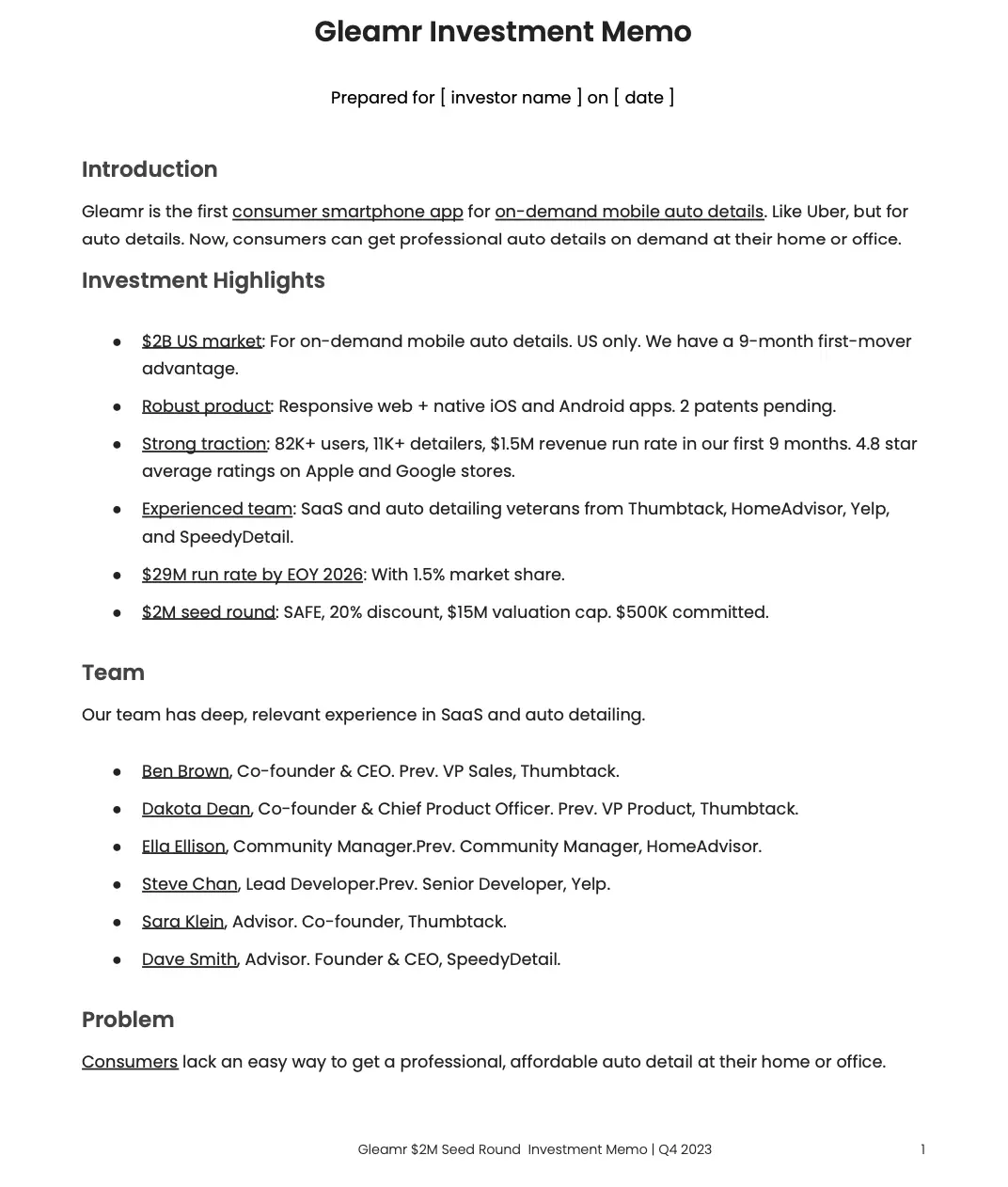 Preview the investment memo template
See what the template looks like before you download it.
Download the investment memo template
Open the file on your desktop then use the File > Make a copy to make your personal copy.
Contact me if you have any problems.
What is an investment memo?
An investment memo deck is a 2-4 page document you can use to share your startup idea and investment thesis. It should be clear, concise, and compelling. As a founder, you can use it to attract potential investors like angel investors, venture capitalists, and private equity firms. You can also use it to recruit co-founders, advisors, and early employees.
Investment memo examples
Bessemer Venture Partners has an excellent collection of investment memos for their investments in leading startups like Shopify, Pinterest, Yelp, Twilio, Twitch, Wix, Fiverr, SendGrid, PagerDuty, Toast, and more. Check them out here. They're also included in my Pitch Deck Coach Library.
Investment memo or a pitch deck?
You need both. They provide the exact same information to investors. The only difference between your investment memo and your pitch deck is format. An investment memo is your startup pitch delivered as a 2-4 page document, whereas a pitch deck is your startup pitch delivered as a 15-20 slide presentation. Each section in your investment memo is a slide in your pitch deck.
Some investors prefer investment memos, while others prefer a pitch deck. Compare the Gleamr startup information presented in my investment memo example and my pitch deck example. You'll see they're almost identical. There's no reason for your story to change based on your delivery format.
When should you write an investment memo?
Write your investment memo before you build your pitch deck. Your investment memo is the outline for your pitch deck in the same way a blueprint is the outline for a house. You wouldn't build a house without a blueprint, and you shouldn't build a pitch deck without an outline.
Personally, I wouldn't wait until you need a pitch deck to write your investment memo. I recommend writing an investment memo as soon as you have a startup idea in mind. Documenting your idea in the form of an investment memo will help you think through — and critically evaluate — every assumption driving your idea and its commercialization.
Why do you need an investment memo?
Like a great pitch deck, a great investment memo is an effective way to answer common investor questions like:
What is your product?
What problem do you solve, and for whom?
Who are your competitors, and what sets your product apart?
How big is your market, and how fast is it growing?
How do you generate revenue, and how easily can you get to $100M in annual revenue?
How do you acquire and retain customers efficiently and at scale?
Why is your team the right team to build this product and business?
How much capital do you need to get from where you are now to escape velocity?
What do investors look for in an investment memo?
The same things they look for in a pitch deck. In either case, investors want to invest early in a startup that offers a substantial return with minimal risk. Return means the potential return on their investment. Risks are things that might prevent investors from getting that return. Your goal is to convince investors that your startup can provide high returns with lower risks than other businesses competing for their investment.
Why is growth so important?
Investors aim for a 10-50x return on their investment in a startup. They require these high returns because they know most of their investments will fail, so they need the winners to be big winners to make up for the losers. Since valuations are largely a function of revenue, a 10-50x increase in valuation requires a 10-50x increase in revenue over the life of the investment.
Some of the best startups in recent history experienced T2D3 growth in their early years. T2D3 means 'triple-triple-double-double-double.' This means they tripled revenue in their first two years, then doubled revenue for each of the following three years. If you can project a growth trajectory that resembles T2D3, with strong supporting data, you will get investors very excited. Here's an example of T2D3 growth:
$1M > $3M > $9M > $18M > $36M > $72M
How do investors think about risk?
Investors consider five core risks when evaluating your startup. Your investment memo should proactively address how your startup will overcome these risks.
Stage Risk
What stage is your startup at? Idea-only, no product is the riskiest stage. Product plus customers who pay and stay is less risky. Stage failure is when you're unable to build a product, unable to prove product-market fit (PMF), or unable to grow beyond small-scale PMF.
Market Risk
Is your startup targeting a large, growing market that can drive significant revenue growth? Market failure is when your target market is too small to drive interesting revenue growth.
Product Risk
Do you offer a compelling product with sustainable competitive advantages that customers will find useful and usable? Product failure is when your product is not useful, not usable, or not differentiated in ways that your customers care about.
Team Risk
Does your team have the necessary industry, operations, startup, and technology expertise to launch your business? Team failure results from insufficient leadership in Marketing, Sales, Customer Service, Product Development, or Financial Management. Or your team lacks expertise in your chosen industry or technology.
Execution Risk
Do you have solid operating plans in place to efficiently scale Marketing, Sales, Customer Service, and Product Development? Execution failure results from ineffective planning and execution across any combination of Marketing, Sales, Customer Service, Product Development, or Financial Management.
The importance of traction
To paraphrase, traction speaks louder than words. Traction reduces market, product, team, and execution risk for investors. By traction, I mean accelerating customer adoption and revenue growth. Traction shows there is at least a small group of customers willing to pay for your product. Strong traction increases your chances of getting funded.
What should you include in your investment memo?
There's no such thing as a one-size-fits-all investment memo template, but this flow is as good as any for most early-stage tech startups.